New & Used Nissan Vehicle Service Intervals
How Often Should I Service My Nissan?
Taking excellent care of your Nissan is a top priority, and our service team is available to help you keep the vehicle well-maintained through recommended maintenance services throughout your many years of happy ownership. Like all other major automakers, Nissan has created owner's manuals for each of its models, and these manuals detail the vehicle's specific recommended maintenance services. In most cases, the manuals include recommendations for service based on mileage milestones. Each model is unique. For example, the parts in the vehicles may have different lifespans. Therefore, you should always refer to your vehicle's manual or request recommendations from our service team. Remember that this general guide can provide you with useful information about the types of services that may be needed for your vehicle at different points.
15,000 - Mile Service
While the 15,000-mile mark is the first major service milestone for most vehicles, most vehicles will also need minor auto services before this point. For example, oil changes may be required every 5,000 to 7,000 miles depending on the vehicle and the type of oil that is used. Tire rotations are often recommended every 3,000 miles as well. When your vehicle approaches 15,000 miles, schedule a more significant service with our automotive service team. This service may include a tire rotation and oil change if these services have not been completed recently. In addition, the oil filter should be replaced, and the cooling system and brake system should receive service.
30,000 - Mile Service
Tire Rotation Intervals. You should continue to change the oil and rotate the tires between 15,000 miles and 30,000 miles, and these steps should be taken at regular intervals throughout your ownership of the vehicle. When the odometer hits the 30,000-mile mark, all service tasks required at the 15,000-mile point will need to be repeated. In addition, the fuel filter and transmission fluid may require replacement at this point. When replacement parts are needed for your vehicle's maintenance projects, our certified auto technicians only use preferred OEM parts rather than lower-quality aftermarket parts.
60,000 - Mile Service
The same auto maintenance services completed for the 15,000-mile check may be needed at 60,000 miles. Furthermore, any services that were not necessary at the 30,000-mile point, such as replacing transmission fluid, may now be required. In addition to these services, the vehicle may need belts, valves, spark plugs and hoses replaced. The exception may be for long-life spark plugs. Long-life spark plugs may not require replacement until the next major automotive maintenance service is required. You can see that each major service builds on the previous recommended service. Therefore, you should plan accordingly to budget enough time and money to complete all recommended services for your vehicle.
90,000 - Mile Service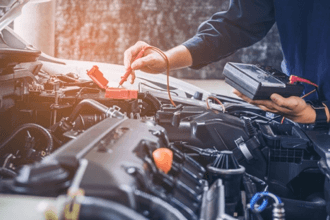 Depending on the automaker's precise recommendations, the next major service may be due at 90,000 or 100,000 miles. As is the case with previous major milestones, the recommended services at this point includes all services from previous milestones. In addition, the vehicle's coolant and long-life spark plugs may need to be replaced. When you bring your vehicle into the service center for each of these major services, the technicians will usually run a thorough diagnostic service on the vehicle as well. Through this additional service, any other signs of wear may be identified and properly addressed. Remember that taking care of developing issues may help you to avoid downtime and expensive repair issues down the road. Our certified technicians are committed to providing you with friendly service while keeping your car properly maintained. To request service for your Nissan, call the office, or make an appointment online.
For more details about your Nissan vehicle maintenance schedule, please consult your owner's manual or contact Garden Grove Nissan for further information.
Service Intervals - 2014 and newer
Replace engine oil and filter
Rotate tires
Replace engine oil and filter
Rotate tires
Inspect CVT fluid
Inspect brake lines and cables
Inspect brake pads, rotors, drums & linings
Inspect drive shaft boots
Replace engine oil and filter
Rotate tires
Replace in-cabin microfilter
Replace engine oil and filter
Rotate tires
Replace brake fluid
Inspect CVT fluid
Inspect axle & suspension parts
Inspect brake lines and cables
Inspect brake pads, rotors, drums & linings
Inspect drive shaft boots
Inspect exhaust system
Inspect front suspension ball joints
Inspect fuel lines/connections
Inspect fuel tank vapor vent system hoses
Inspect steering gear and linkage
Inspect steering linkage ball joints
Replace engine oil and filter
Rotate tires
Replace engine oil and filter
Rotate tires
Replace engine air filter
Replace in-cabin microfilter
Inspect CVT fluid
Inspect brake lines and cables
Inspect brake pads, rotors, drums & linings
Inspect drive shaft boots
Replace engine oil and filter
Rotate tires
Replace engine oil and filter
Rotate tires
Replace brake fluid
Inspect CVT fluid
Inspect axle & suspension parts
Inspect brake lines and cables
Inspect brake pads, rotors, drums & linings
Inspect drive shaft boots
Inspect engine drive belts
Inspect exhaust system
Inspect front suspension ball joints
Inspect fuel lines/connections
Inspect fuel tank vapor vent system hoses
Inspect steering gear and linkage
Inspect steering linkage ball joints
Replace engine oil and filter
Rotate tires
Replace in-cabin microfilter
Replace engine oil and filter
Rotate tires
Inspect CVT fluid
Inspect brake lines and cables
Inspect brake pads, rotors, drums & linings
Inspect drive shaft boots
Inspect engine drive belts
Replace engine oil and filter
Rotate tires
Replace engine oil and filter
Rotate tires
Replace brake fluid
Replace engine air filter
Replace in-cabin microfilter
Inspect CVT fluid
Inspect axle & suspension parts
Inspect brake lines and cables
Inspect brake pads, rotors, drums & linings
Inspect drive shaft boots
Inspect engine drive belts
Inspect exhaust system
Inspect front suspension ball joints
Inspect fuel lines/connections
Inspect fuel tank vapor vent system hoses
Inspect steering gear and linkage
Inspect steering linkage ball joints
Replace engine oil and filter
Rotate tires
Replace engine oil and filter
Rotate tires
Inspect CVT fluid
Inspect brake lines and cables
Inspect brake pads, rotors, drums & linings
Inspect drive shaft boots
Inspect engine drive belts
Replace engine oil and filter
Rotate tires
Replace in-cabin microfilter
Replace engine oil and filter
Rotate tires
Replace brake fluid
Inspect CVT fluid
Inspect axle & suspension parts
Inspect brake lines and cables
Inspect brake pads, rotors, drums & linings
Inspect drive shaft boots
Inspect engine drive belts
Inspect exhaust system
Inspect front suspension ball joints
Inspect fuel lines/connections
Inspect fuel tank vapor vent system hoses
Inspect steering gear and linkage
Inspect steering linkage ball joints
Replace engine oil and filter
Rotate tires
Replace engine oil and filter
Rotate tires
Replace engine air filter
Replace in-cabin microfilter
Inspect CVT fluid
Inspect brake lines and cables
Inspect brake pads, rotors, drums & linings
Inspect drive shaft boots
Inspect engine drive belts
Replace engine oil and filter
Rotate tires
Replace engine oil and filter
Rotate tires
Replace brake fluid
Inspect CVT fluid
Inspect axle & suspension parts
Inspect brake lines and cables
Inspect brake pads, rotors, drums & linings
Inspect drive shaft boots
Inspect engine drive belts
Inspect exhaust system
Inspect front suspension ball joints
Inspect fuel lines/connections
Inspect fuel tank vapor vent system hoses
Inspect steering gear and linkage
Inspect steering linkage ball joints
Replace engine oil and filter
Rotate tires
Replace engine coolant
Replace in-cabin microfilter
Replace spark plugs
Replace engine oil and filter
Rotate tires
Inspect CVT fluid
Inspect brake lines and cables
Inspect brake pads, rotors, drums & linings
Inspect drive shaft boots
Inspect engine drive belts
Replace engine oil and filter
Rotate tires
Replace engine oil and filter
Rotate tires
Replace brake fluid
Replace engine air filter
Replace in-cabin microfilter
Inspect CVT fluid
Inspect axle & suspension parts
Inspect brake lines and cables
Inspect brake pads, rotors, drums & linings
Inspect drive shaft boots
Inspect engine drive belts
Inspect exhaust system
Inspect front suspension ball joints
Inspect fuel lines/connections
Inspect fuel tank vapor vent system hoses
Inspect steering gear and linkage
Inspect steering linkage ball joints
Replace engine oil and filter
Rotate tires
Replace engine oil and filter
Rotate tires
Inspect CVT fluid
Inspect brake lines and cables
Inspect brake pads, rotors, drums & linings
Inspect drive shaft boots
Inspect engine drive belts
Replace engine oil and filter
Rotate tires
Replace in-cabin microfilter
Replace engine oil and filter
Rotate tires
Replace brake fluid
Inspect CVT fluid
Inspect axle & suspension parts
Inspect brake lines and cables
Inspect brake pads, rotors, drums & linings
Inspect drive shaft boots
Inspect engine drive belts
Inspect exhaust system
Inspect front suspension ball joints
Inspect fuel lines/connections
Inspect fuel tank vapor vent system hoses
Inspect steering gear and linkage
Inspect steering linkage ball joints
Replace engine oil and filter
Rotate tires
Replace engine oil and filter
Rotate tires
Replace engine air filter
Replace in-cabin microfilter
Inspect brake lines and cables
Inspect brake pads, rotors, drums & linings
Inspect drive shaft boots
Inspect engine drive belts
Replace engine oil and filter
Rotate tires
Replace engine oil and filter
Rotate tires
Replace brake fluid
Inspect CVT fluid
Inspect axle & suspension parts
Inspect brake lines and cables
Inspect brake pads, rotors, drums & linings
Inspect drive shaft boots
Inspect engine drive belts
Inspect exhaust system
Inspect front suspension ball joints
Inspect fuel lines/connections
Inspect fuel tank vapor vent system hoses
Inspect steering gear and linkage
Inspect steering linkage ball joints
Replace engine oil and filter
Rotate tires
Replace in-cabin microfilter
Replace engine oil and filter
Rotate tires
Inspect CVT fluid
Inspect brake lines and cables
Inspect brake pads, rotors, drums & linings
Inspect drive shaft boots
Inspect engine drive belts
Replace engine oil and filter
Rotate tires
Replace engine oil and filter
Rotate tires
Replace brake fluid
Replace engine air filter
Replace engine coolant
Replace in-cabin microfilter
Inspect CVT fluid
Inspect axle & suspension parts
Inspect brake lines and cables
Inspect brake pads, rotors, drums & linings
Inspect drive shaft boots
Inspect engine drive belts
Inspect exhaust system
Inspect front suspension ball joints
Inspect fuel lines/connections
Inspect fuel tank vapor vent system hoses
Inspect steering gear and linkage
Inspect steering linkage ball joints
Replace engine oil and filter
Rotate tires
Replace engine oil and filter
Rotate tires
Inspect CVT fluid
Inspect brake lines and cables
Inspect brake pads, rotors, drums & linings
Inspect drive shaft boots
Inspect engine drive belts
Replace engine oil and filter
Rotate tires
Replace in-cabin microfilter
Replace engine oil and filter
Rotate tires
Replace brake fluid
Inspect CVT fluid
Inspect axle & suspension parts
Inspect brake lines and cables
Inspect brake pads, rotors, drums & linings
Inspect drive shaft boots
Inspect engine drive belts
Inspect exhaust system
Inspect front suspension ball joints
Inspect fuel lines/connections
Inspect fuel tank vapor vent system hoses
Inspect steering gear and linkage
Inspect steering linkage ball joints
Replace engine oil and filter
Rotate tires
Replace engine oil and filter
Rotate tires
Replace engine air filter
Replace in-cabin microfilter
Replace spark plugs
Inspect CVT fluid
Inspect brake lines and cables
Inspect brake pads, rotors, drums & linings
Inspect drive shaft boots
Inspect engine drive belts
Replace engine oil and filter
Rotate tires
Replace engine oil and filter
Rotate tires
Replace brake fluid
Inspect CVT fluid
Inspect axle & suspension parts
Inspect brake lines and cables
Inspect brake pads, rotors, drums & linings
Inspect drive shaft boots
Inspect engine drive belts
Inspect exhaust system
Inspect front suspension ball joints
Inspect fuel lines/connections
Inspect fuel tank vapor vent system hoses
Inspect steering gear and linkage
Inspect steering linkage ball joints
Replace engine oil and filter
Rotate tires
Replace in-cabin microfilter
Replace engine oil and filter
Rotate tires
Inspect CVT fluid
Inspect brake lines and cables
Inspect brake pads, rotors, drums & linings
Inspect drive shaft boots
Inspect engine drive belts
Replace engine oil and filter
Rotate tires
Replace engine oil and filter
Rotate tires
Replace brake fluid
Replace engine air filter
Replace in-cabin microfilter
Inspect CVT fluid
Inspect axle & suspension parts
Inspect brake lines and cables
Inspect brake pads, rotors, drums & linings
Inspect drive shaft boots
Inspect engine drive belts
Inspect exhaust system
Inspect front suspension ball joints
Inspect fuel lines/connections
Inspect fuel tank vapor vent system hoses
Inspect steering gear and linkage
Inspect steering linkage ball joints